When you think of physical therapy, you probably have a pretty standard idea of what to expect: a series of machine tests, a physical evaluation, exercise routines that focus on your injury or issue, and regularly scheduled appointments for your physical therapist to walk you through those routines. Pretty standard stuff, right?
But there is a particular form of physical therapy that goes beyond all of those standard treatments to help treat your pain, injury, or illness. It's known as the manual method or manual physical therapy in the medical community. While it's not necessarily a new treatment, it has been gaining in popularity due to the many research studies proving that manual therapy is an effective method for natural and non-invasive physical therapy.
What is Manual Physical Therapy?
Manual physical therapy is characterized as a treatment plan where physical therapists use only their hands to control pain and improve the condition or injury causing it. Manual therapy does not solely rely on surgical procedures, intimidating machinery, or potentially-addictive medications. While manual therapy styles vary, they all tend to incorporate a few standard principles, This can include proven therapeutic massage techniques, joint mobilization, muscle stretching and/or contracting, and specialized movement to increase a patient's range of motion.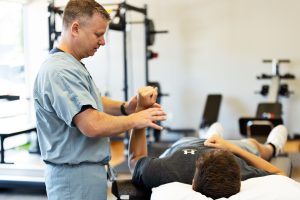 Benefiting the Body and Mind
What makes this specialized therapy practice unique is the way it approaches pain resolution, injury treatment, and rehabilitation. For those seeking a more natural approach to pain management and healing, manual therapy can be used independently from prescription medications, invasive surgeries, or uncomfortable machines. For patients that require traditional treatments and procedures, manual therapy can enhance recovery, reduce or eliminate pain, and potentially help avoid future complications.
And what about the power of human connection? Having your physical therapist closely interacting with you helps you stay focused, optimistic, and effective. Manual therapy methods ensure that you aren't left alone during your rehabilitation journey!