Have you ever had that twinge in your back that does not seem to go away no matter what you do? There could be a number of different reasons for persistent pain. Knowing the source of your pain can help you get relief.
FIRST, YOU MUST DETERMINE IF YOUR PAIN IS CHRONIC OR ACUTE.
If you have been suffering for greater than six months, then most likely you are suffering from a chronic condition. If the pain has just started and has been present for less than six months, then the condition would be considered acute.
WHAT ARE THE FIRST STEPS TO TAKE IF YOU HAVE PERSISTENT BACK PAIN?
Whether your pain is chronic or acute, the first step to achieving a diagnosis is seeing a primary care physician or a Physical Therapist who can assess the symptoms that are associated with your back pain. Since it is no longer necessary to get a referral, you can go straight to your PT. Some of the most common symptoms associated with back pain are: pain upon bending over or bending backward, numbness or tingling in the back or down either leg or both, pain upon changing positions, and pain with prolonged positions whether it be sitting or standing. Once you have seen your Physical Therapist and they have pointed you in the direction they feel suits your needs, proper intervention can be received. An x-ray may be performed which can be helpful in determining the diagnosis.
WHAT COULD IT BE?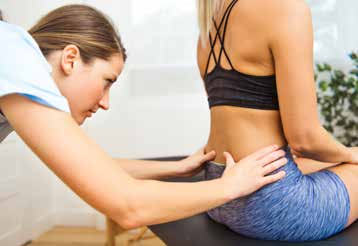 There are many diagnoses that come along with recurrent back pain. Some of the most common diagnoses are degenerative changes in the spine or osteoarthritis, lumbar disc pathology, spinal structural deformity from scoliosis or other pathology, lumbar sprain or strain, or a lumbopelvic alignment issue. Each of these pathologies comes with varying symptoms that may or may not be present in your particular case. With spinal degenerative changes or osteoarthritis, pain is typically common when standing or when excessive compressive forces are placed on the spine. Relief usually comes when sitting or when in a forward flexed position. Lumbar disc pathology usually arises from some type of injury or trauma. Oftentimes, numbness and tingling in the back of one or both legs are common symptoms associated with this type of back pain. Usually, structural deformities within the lumbar spine are detected early in childhood but can arise later in life after trauma or arthritic changes have set in. There are many different symptoms associated with these chronic conditions. They can range from mild aches to chronic pain with or without numbness and tingling. A lumbar sprain or strain usually arises from some type of trauma whether that be possible from a car accident or a sports-related injury. This usually is associated with an acute injury that has occurred within a two-week time frame and will usually subside if correct intervention is given within six to eight weeks. Common symptoms associated with sprains or strains are muscle soreness or tenderness to the area that is causing the pain. Another common cause of lower back pain is malalignment issues in the lumbopelvic region. This type of back pain can come about during or after pregnancy, sports-related injuries, or other trauma to the lower back. Symptoms associated with this type of back pain are a catching feeling in the back which often comes about with a change in position. Pain relief is usually achieved when the misalignment condition is corrected through physical therapy. The best way to achieve pain relief is to seek medical attention especially if the pain has affected your daily activities whether that be in a work setting or a sport-related physical activity setting. Prolonging care will most likely lead to increased pain or an increased chance of more extensive medical treatment.
The Resistance Ring for a Tuned Back
The use of a resistance ring can bring a convenient element to your daily exercise routine. Exercise science is constantly evolving. As trainers, we love finding powerful exercise tools that give our clients NO excuse not to exercise. You can bring these small pieces of equipment on your next vacation, business trip or even keep them in your purse or gym bag. The following two exercises will demonstrate how to use resistance rings (tubing) to work the arms, chest and tune your back. It is time to brace, breathe and enjoy the convenience of the resistance ring!
The Resistance Band Press
Stand with the feet hip distance apart.
Firmly grip the resistance ring in both hands in front of your chest and extend forward.
Squeeze the ring inward and tighten the muscles in the core, chest and shoulders. As you pull outward, you should feel tension in your tricep muscles at the backs of your arms as well as in your latissimus dorsi of the back.
Release the tension to complete one repetition, and then repeat for a total of 12 to 15 repetitions. Hold for 30 seconds.
Extend the ring overhead and again, squeeze the ring inward, tighten the muscles in the core, chest and shoulders and repeat for a total of 12 to 15 repetitions or to muscle fatigue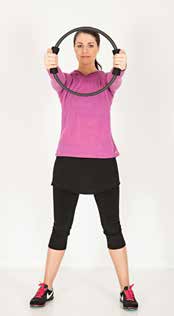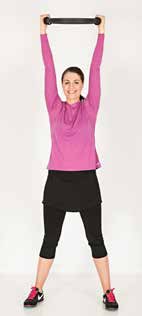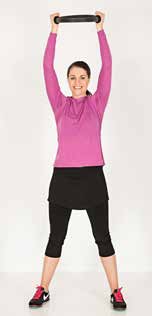 *Please consult a medical professional before beginning any exercise program.
CHECK YOUR BODY POSTURE TO PREVENT PAIN
WE'RE ALL GUILTY OF IT – BAD POSTURE. AN ESTIMATED 80 PERCENT OF THE AMERICAN POPULATION WILL EXPERIENCE BACK PAIN AS A RESULT OF POOR POSTURE IN THEIR LIFETIME. FROM SITTING TOO OFTEN TO HUNCHING OVER WHEN SITTING OR STANDING, WE'RE MORE PRONE TO POOR POSTURE THAN GOOD POSTURE
So how do we correct our posture and avoid the inevitable pain that comes with it? Thankfully, it's not all that hard to correct this bad behavior.
Take some time away from those mobile devices
Outside of work hours, most Americans spend 3.5 hours or more on their mobile devices. This strains your posture. Cell phone viewing encourages us to lean our heads down, which puts additional stress on the muscles, ligaments, and tendons that support our heads. The best way to prevent this is to step away when possible. While mobile usage can be addicting, so too can be a breath of fresh air, or disconnecting for an hour or two each day. However, if you just can't part ways with that device, there are ways to correct your posture. Start by holding your phone at eye level. Doing this keeps your head up and shoulders back. This is very similar to the position in which you should be sitting at your desk.
.
Correct how you are sitting at your desk
Office workers, pay attention! You might not think it but it is possible to create a posture-neutral position that will free you of pain and inevitably make you more productive. Aside from taking regular movement breaks, there are a few adjustments that you can make to your workstation to make you more comfortable. Make sure that your desk allows for a full range of motion, that your most used items are within arm's reach, that you have adequate space for your legs and feet, and that you are not sitting in a hunched position.
Invest in a sit-stand workstation
One of the best solutions to improving posture is a sit-stand desk. Not only will you burn more calories, but your body will be more posture neutral in a standing position. While you are standing, be sure that you also pull your stomach in, push those shoulders back, keep your head up and level and place the majority of your weight on the balls of your feet. Whenever possible, give your arms a break and let them hang at your sides. Finally, keep your feet shoulder-width apart.
While Exercising
Leveraging the proper walking and running posture will help to strengthen your back and alleviate back pain. When walking, your spine should be aligned vertically. When running, keep your eyes focused straight ahead, keep your arms pumping at your sides (not crossing in front of you), and balance your weight forward.
Employee Spotlight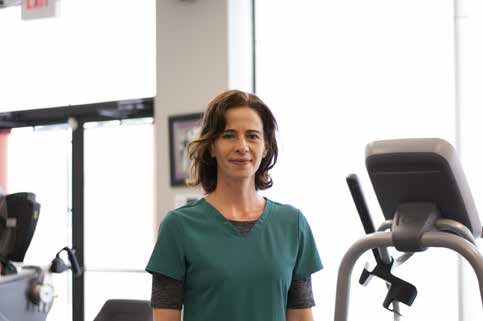 Jemina Hart is originally from Honduras. She graduated from Hunter College in NYC with a Master's in Physical Therapy in 2005. Jemina was a professional ballet and contemporary dancer before becoming a physical therapist. She specializes in movement re-training and helping patients understand their bodies to promote healthy habits. Jemina is certified in Dry Needling and recently obtained her advanced certification to teach exercises for patients with spinal deformities including scoliosis and kyphosis using the Schroth Method. Jemina is committed to providing research-based compassionate care for her patients and strives to treat every person as an individual with specific needs and goals.